CHARITABLE HOUSE
Estimated each year, we will build at least 5 houses to rescue those from horrific living conditions. The cost per house come out to be 50-60 million VND or $2,000-$3,500 USD.
Our numerous trips spread from urban to rural, to the most mountainous region of Central Vietnam of which include the coastal lagoon or upland Nam Dong, A Luoi, somewhere in our hearts the images of ramshackle family home, cabin dilapidated making our footsteps heavier as we desire to put them in a better shelter.
Standing before such hard images, since January 4th, 2014, the program ¨House of Love¨ has officially started. Priority will be given to those who are on the list of poor households needing monthly assitance from Phuc's Fond.
After surveying the family with our Relief Committee, Phuc's Fond will repair the degraded homes. For those living in the handmade ¨tent¨, Phuc's Fond will contact local authorities to allocate land to build houses for them.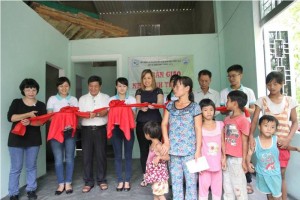 Each charity house usually spand from 50-80m², includes utilities and auxiliary buildings (toilets, bathrooms, kitchens).
Thus far, Phuc's Fond has successfully constructed 7 houses. Countless lives have been revived, is alive and living in the new house of love. This is all results of YOUR compassion. Because of YOUR monetary and material support, we are able to achieve the things we plan to do: bringing love to the unfortunates one step at a time.