Volunteers
Do you have the compassion and desire to share?
Do you want to improve your social skills through community service?
Do you want to explore new challenges and meaning of life?
Join our journey, Phuc's Fond always welcome your participation !!!
From little souls at Hue University desire to assist those in need sparks the fire of our Phuc's Fond Charity Group today which has gathered more than 60 members from all walk of life in society. Some are still college students, some are young professionals in engineering, financial sectors, and doctors…together with 100 volunteers whom are always willing to help.
Everyone comes together because they all have a heart of loving: love their fellow people, sympathize with the lives of unfortunate people. With today society, where young people constant desire to have good life full of materialistic, these few young people put their time to volunteerism. While the society is apathetic against those who are not self sufficient, our volunteers represent the meaning of true compassion.
Joinning Phuc's Fond, you will experience diverse, itneresting activities such as:

Family Day for nursing homes and orphanges throughout Hue City.
Organized special festivals during holidays such as: New Year's Day, Mid-Autumn Festival, and Children's Day.
Picnic trip and visitations to the ethnic people afar.
Participate in charitiable events and fundraising activities.
and many other activities …..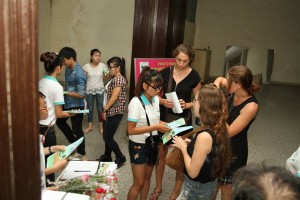 In addition, you can also interact, meet and work with members of Phuc's Fond across the world.
We hope that when you desire to volunteer with Phuc's Fond, you have consider to: love each other members as if they are your brothers and sisters, put aside misunderstandings, support each others, and share experience with each others. These are the true values behind our mission and vision for Phuc's Fond Charity: "Giving Love-Receiving Joy."